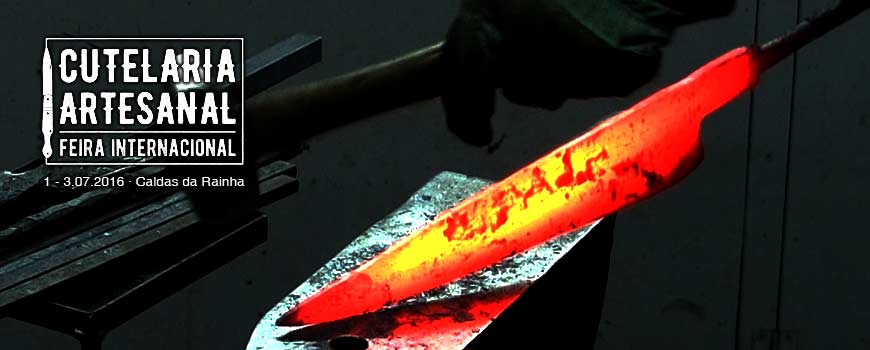 The 1st Knife Show will be held on July 1, 2 and 3 at the Cultural and Congress Centre of Caldas da Rainha.
A meeting point between producers, suppliers and enthusiasts about cutlery, to exchange experiences, show unique handmade pieces and show the population this art.
The production of cutlery in the region of Caldas da Rainha and Benedita have a marked historical nature, reflected in the experiences of its people and stands out today by its industrial production, internationally recognized.
The curiosity for the art of working iron have approached generations, and in the last decade have appeared a number of homemade cutlery producers, supported by the evolution of information technology.
During the 3 days of this event the public will have the opportunity to enjoy a unique exhibition of cutlery pieces, of national and international production, contact directly with their producers, participate in workshops "Assemble your own Pocket Knife" and watch demonstrations of sharpening blades.
DATE 1, 2 and 3 July 2016
PLACE Cultural Centre of Caldas da Rainha, (Portugal)
SCHEDULE Day 1, from 17h to 21h
Day 2, from 10h to 21h
Day 3, from 10h to 19h
EXHIBITION AREA 300 m2
AIMED AT: Collectors, Craftsmen, Knife lovers, Professionals of Cutlery, Knife makers, General public...
EXHIBITORS:
- Knife-making craft, material and tools suppliers for craftsmen/ Activities related to Knife-making.
PRODUCTS :
- Handmade Knives: folding knives, knives and tools, bowie knives, handicraft hunting knives, etc.../ Auxiliary material: stainless steel, wood etc.../ Sheathes, tools for grinding, polishing, sharpening
PRICE TO PARTICIPATE: Exhibition table (size 1,20 x 80 cm) 60€
FEES: Free
Email :.
Esta dirección de correo electrónico está siendo protegida contra los robots de spam. Necesita tener JavaScript habilitado para poder verlo.
Tel :. +351 262 098 585
URL :. http://www.lombodoferreiro.com
Rua 10 de Julho, n.º 10, Relvas
2500 – 796 Santa Catarina, Caldas da Rainha
(1h 13min north of lisbon)
PORTUGAL